Last week, one of my favourites to follow on social media posted that for his birthday this year, among other things, he'd accept some arts made from his cartoon characters. Now, I couldn't pull this off in time, so I decided to make this a belated gift for him.
Dee Parson is a professional cartoonist extraordinaire and creator of many strips. Here are the ones I'm currently aware of: Pen & Ink, Rosebuds and Life with Kurami. He's published, award-nominated, entrepreneurial, creative, humble, talented, hardworking and inspirational and oh did I mention all of this at the tender age of what, 24? Hahaha something like that, maybe 25? Definitely not 26. Anyway I just wanted to encourage you all to explore his work at http://www.penandinkworkshop.com. If Dee were a stock, he'd be one to watch out for as his future is very bullish!!!
Here's his rendition of Life with Kurami and Yin + Yangster characters bonding over a play date! I was very humbled and honoured and can only hope today's cartoon brings a little smile to his face!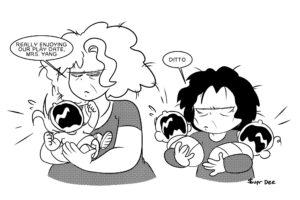 Happy Belated Birthday, ya young whipper snapper, Dee! 🙂
Laura
ps Penny & Inkara (Pen & Ink) are sisters! 😀